MICRO FUNDING FOR FAMILIES IN NEED
Fadilah and her family are among the millions of families in Indonesia living in poverty. Her husband works odd jobs only to bring home $3/day to feed the whole family each day. Hope 4 Our Children donated a food cart to this lovely family to help them get their street food vendor business started. .
To provide small amount of money to very poor entrepreneurs to encourage their self-sufficiency

To support those who are unable to obtain loans from mainstream banks.

To allow families with an opportunity to provide an education for their children.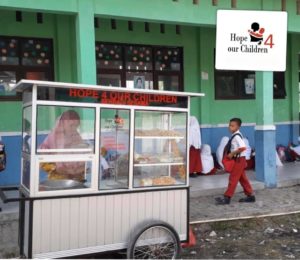 SUPPORTING ONE FAMILY AT A TIME
We received news that they are incredibly grateful for the aid. Before the assistance, Fadilah was sad that her 8-year-old daughter was missing school due to lack of money to pay for her school expenses. With money she received from the new food cart, their family can bring home twice to three times what they previously received from doing various odd jobs. They can now pay for their daughter's school expenses. For the first time in their lives they feel hopeful.